Book a stay in our hotel in Nantua and discover a department with spectacular landscapes, between Geneva and Lyon. 
Perched at an altitude of 80 metres in the Haut Bugeyin the eastern part of the Ain, the Lake Genin offers a splendid panorama reminiscent of Canada, only twenty minutes away from our hotel. A little further down, the Lake Sylans is sparkling with its exceptionally pure drinking water where pikes swim. Finally, the Lake Nantua is spread over 141 hectares which reflect the magnificent limestone cliffs that frame it: a magnificent view for your stay at the hotel L'Embarcadère.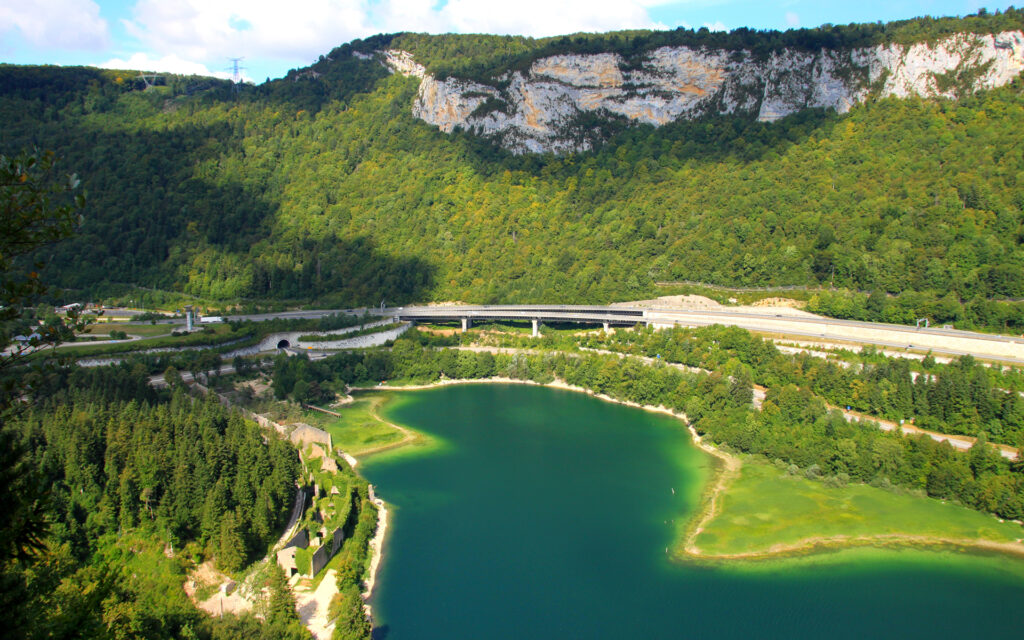 In this paradise that is the Ain, nature is king and offers a privileged setting for many activities, from swimming to fishing, sailing, canoeing or pedal boats. In the surrounding forests, it is happiness for the amateurs of MOUNTAIN BIKE and walking tours. In winter, the landscapes are revealed during a trip in snowshoes or cross-country skiing. When the lakes are frozen, they become great playgrounds for the ice skating.
For breathtaking views, visit the Revermont summit to watch the paragliders, the Round Mountain which offers a magnificent view of the the Alps and Mont Blancor the summit of the Grand Colombierwhich is part of the Tour de France and overlooks the Savoies Lakes. The latter is about an hour's drive from the Hotel L'Embarcadère.
From the Jura mountains to the Rhone River, the River Ain winds its way through superb gorges with a succession of waterfalls, dams and bridges.
Between Lyon and Bourg-en-BresseThe Dombes region is full of ponds: there are no less than 1100 of them. This land is a real a haven of peace for migratory birds who find refuge there. Don't miss a visit to the Bird ParkLocated in Villars les Dombes, less than an hour's drive from our hotel.
In addition to its exceptional nature, the Ain is home to towns that are definitely worth a visit. Take some time for yourself in the Divonne spa near Geneva1h15 from our hotel, explore the medieval city of Pérougesclassified as one of the most beautiful villages in France, or visit the Royal Monastery of Brou à Bourg-en-BresseBoth are about 40 minutes away.
Finally, take advantage of your stay in our hotel in the Ain to stroll around the traditional markets and fill up on flavours and memories with exceptional products.